DLF Limited, one of India's premier real estate developers, boasts a diversified product mix that includes residential, commercial, and retail properties. The company's presence extends across major Indian cities, positioning it as a significant player in the real estate industry.
The Business Model of DLF Limited
DLF Limited adopts a multifaceted business model, with a primary focus on the development of residential, commercial, and retail real estate.
Land Procurement: DLF secures land through a combination of government auctions, direct acquisitions, and collaborative ventures with landowners. Possessing a land portfolio spanning more than 200 million square feet across India, the company maintains a formidable competitive advantage in the market.
Project Development: DLF adheres to a vertically integrated business model with in-house expertise in all facets of project development, from land planning and design to construction, marketing, and sales. This approach ensures streamlined project delivery and upholds high-quality standards.
Revenue Model: DLF generates revenue primarily from property sales, encompassing both residential and commercial segments, as well as rental income from its commercial and retail properties. The company also offers property management services as an additional revenue stream.
Diversification: Beyond real estate development, DLF has diversified into various other businesses, including hotels, infrastructure development, and life insurance. This diversification mitigates risk and offers the company additional revenue sources.
Strategic Partnerships: DLF has forged strategic partnerships with global entities like Hilton, Blackstone, and GIC for the development of hotels, malls, and other projects. These collaborations leverage the expertise and resources of these companies, enhancing DLF's competitive edge.
DLF's Future Plans and Growth Strategies
DLF has several strategic initiatives planned for future growth and expansion in the Indian real estate market:
Residential and Commercial Projects: DLF intends to launch multiple new residential and commercial projects in various Indian cities. The company is emphasizing the development of both high-end luxury projects and affordable housing to cater to a broader customer base.
Asset Monetization: DLF plans to monetize some of its assets, such as commercial office spaces and shopping malls, to reduce its debt burden and enhance its financial performance.
Joint Ventures and Partnerships: DLF is looking to create joint ventures and strategic partnerships with other firms to develop new projects and leverage their partners' expertise.
Expansion into New Markets: DLF's expansion strategy includes entering new markets like Kolkata, Pune, and Chennai. The company is also exploring international market opportunities.
Sustainable Development: DLF is committed to sustainable development, with a focus on incorporating green features into its projects. Additionally, the company is exploring new technologies like automation and artificial intelligence to improve project delivery and reduce costs.
Fundamentals of DLF Limited
Enterprise Value: ₹1,412,894,687,232.00
P/E Ratio: 67.11
Price/Book: 3.73
Price/Sales: 24.79
Book Value: ₹152.25
Dividend Yield: 0.70%
Total Cash: ₹27.46 billion
Total Debt: ₹33.34 billion
Total Revenue: ₹56.76 billion
EBITDA: ₹16.92 billion
EBITDA Margin: 29.82%
% Held by Insiders: 75.00%
% Held by Institutions: 11.63%
Earnings Per Share: ₹8.47
Earnings Growth: 12.10%
Gross Profit: ₹32.61 billion
Gross Margin: 56.84%
Quarterly Revenue Growth: -1.30%
Quarterly Earnings Growth: 12.20%
Payout Ratio: 35.50%
DLF Share Price Targets
2023: DLF's projected share price for 2023 has a minimum target of ₹565 and a maximum target of ₹625. This suggests a potential price range for investors to consider in the coming year, with a minimum expected value of ₹565 and a maximum potential value of ₹625.
2024: In 2024, DLF's shares are forecasted to have a minimum target of ₹630 and a maximum target of ₹700. Investors can use these targets as reference points for their investment decisions, with the stock expected to trade within this range.
2025: The year 2025 is projected to see DLF's shares with a minimum target of ₹695 and a maximum target of ₹770. This range provides an idea of the expected price fluctuations and potential growth during this year.
2026: For 2026, DLF's share price is estimated to have a minimum target of ₹770 and a maximum target of ₹855, indicating the expected price range for this year and potential investment outcomes.
2027: DLF's shares in 2027 are expected to have a minimum target of ₹860 and a maximum target of ₹955. This forecast provides insight into the anticipated price range as the company continues its operations and growth.
2030: Looking further ahead, in 2030, DLF's shares are projected to have a minimum target of ₹1190 and a maximum target of ₹1320. This suggests significant growth potential over the next decade.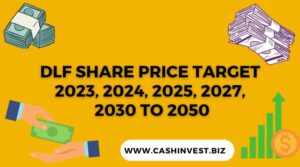 2040: The year 2040 is forecasted to have DLF's shares with a minimum target of ₹3290 and a maximum target of ₹3650, indicating substantial long-term growth potential.
2050: By 2050, DLF's shares are projected to reach a minimum target of ₹8120 and a maximum target of ₹8730, reflecting the long-term outlook and potential for substantial gains for investors over this extended period.
Disclaimer
It is important to emphasize that this article does not provide financial advice or stock recommendations. Share price predictions are inherently speculative and are for educational purposes only. Always conduct thorough research and seek advice from financial experts before making investment decisions.